I insert a new item on my inventory just one variation with EAN cod.
Than I created a new acution selecting the item from the inventory.
I added all the information (price, shipping cost, MPN ect.)
When I start the upload I got following errors message reported on the image attached.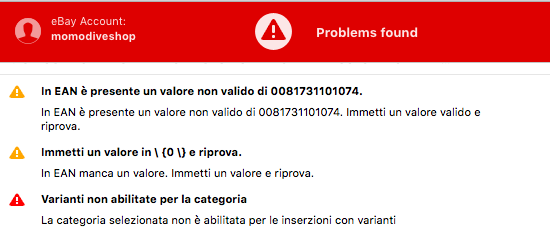 Please note I insered the right ean code reported on the packaging that is 817311010174 but I get the error.
I tryed to add a Zero before: like 0817311010174 but still get an error.
In both cases the massage (attached) it reported a EAN code with 2 Zero before the EAN code 817311010174.
Also it warning me about categories it seems it does not accept variation.
Another issue come up if I select someone of the default rules (already set on Ebay) for Payments, shipping and return polices I still get errors.
For example I choose I rules with express shipping but I get the following message:

I have been wondering if I'm doing something wrong?