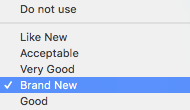 Not a big issue but hopefully one that can be made?
On the drop down menu when picking conditions for say a DVD, can these be reordered in rank?
In other words, when one is about to pick the condition, the drop down should be:
Brand New
Like New
Very Good
Good
Acceptable
Right now, it seems to just order them (as seen in the pic) in a weird random order.
It would make listing faster to know that these conditions are already ranked so we know what to pick faster.
Thanks!