Almost every time i open GarageSale7 my browser launches into this website. Anyone else having this problem?
Does this only happen if you open a listing in "Live" mode where GarageSale displays the eBay website?
There's probably a Flash ad on the eBay website that causes that strange behavior. It should help to disable Flash in the GarageSale preferences > General.
Also make sure to always keep your Flash up-to-date!
Regards, Kristian
Flash widgets are off.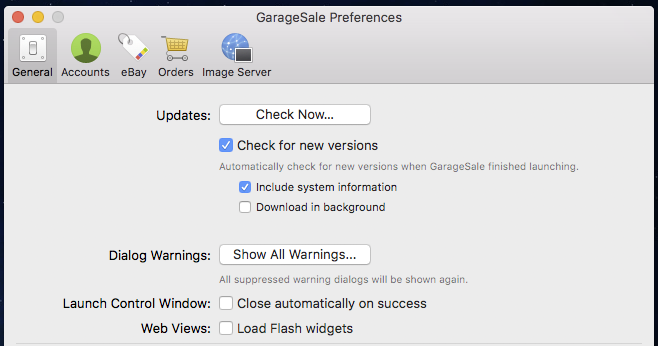 Ye so it did it again. Not very difficult to recreate this. I started flipping through my active listings in Live Mode on GarageSale7 and its one of the ads that keeps appearing on the eBay page. The trouble is, i didnt even mouse over this ad, it just automatically opens in a new tab in my browser.
You should include a block ads check box in future versions.
i should also mention that when i look at my listing in GarageSale7in the live mode, other ads will appear, but this is the only one that keeps popping up. , very strange
This topic was automatically closed 10 days after the last reply. New replies are no longer allowed.