Dear GarageSale Users,
The fifth beta version of GarageSale 7.0.9 is available for you to download from the URL below, or from the built-in updater if you are running a previous beta version:
https://downloads.iwascoding.com/downloads/GarageSale_7.0.9b5.dmg
What's new in since the last beta release
adds the 'Verify Image Links in Description" command for bulk replacing images links with image, and the 'http' protocol with 'https'. This command is especially useful if you imported listings from My eBay, which contains image links and http images in the description. Make sure to use the "Revise" command active listings that got modified by the new command.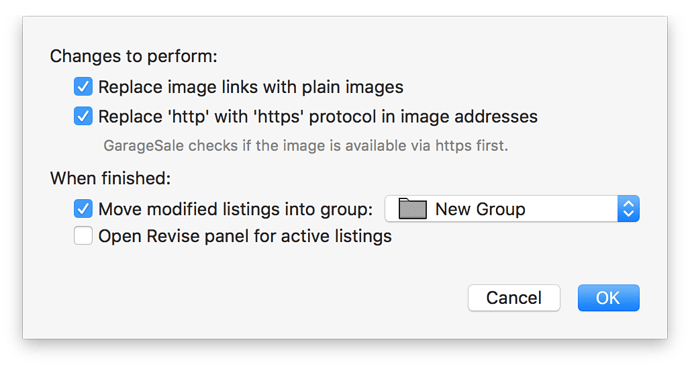 What's new in GarageSale 7.0.9
GarageSale will no longer add clickable links to images it embeds into your listing description on eBay, as these links are no longer allowed by eBay. Instead of clicking on images, buyers now need to use their browser's context menu to open a full-size view of the image. Alternatively, you can use the 'Thumb Zoom' design.
performance improvements when selecting or duplicating large number of listings
'New' menu in the main menubar now matches the 'New' popup menu in the main window's toolbar
the menu item for creating scheduler events from listing now a has account submenu like the 'Start listing' command when you have more than one eBay account authorised in GarageSale
added 'Cancel' button to 'Wait on Quit' panel
fixed a problem where changes to various amount fields weren't correctly reflected in smart groups
instead of uploading them again, GarageSale now re-uses images that were uploaded to a custom image server before its configuration was changed to use the HTTPS protocol for image download
fixed resizing quirks in the scheduler window
various crash fixes
System Requirements
GarageSale 7 requires OS X 10.10 or later
Thanks for using GarageSale,
Ilja on behalf of the iwascoding team