Yes, but only the active ones.
Invoke the revise command, and select only "Item Description" as property to be revised.
@ilja so do you confirm that the "auto-relisting with changes" does not update http and clickable images?
I would need to revise about 5500 listings, so doing it manually would require ages…
Relisting with changes, including auto-relisting, will remove the http and clickable images as well.
Revising all 5500 in one go might be a little overkill, but you might try to bulk-revise 500 together. Might be worth a try.
If so
I will wait they end and are relisted automatically

in 30 days everything should be done!
@ilja !! The version 2.5 of Pro: Urban seems to have fixed the issue with http and clickable image, but it has problem with the category box in description, look…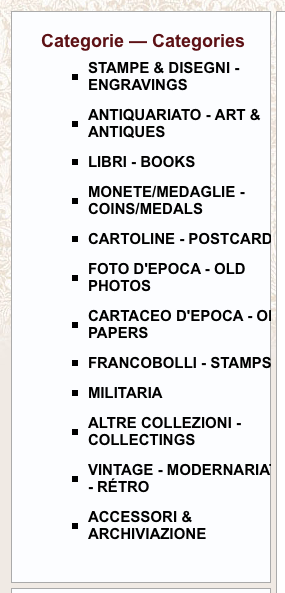 Before it was not bold and besides now some categories are cut!!! What can I do to fix?? There is too much white space on the left…
Thank you for your feedback. We fixed it. It only happened if you put the sidebar to the right.
If you already have GarageSale 7.0.9 installed you can update the design by clicking on the download button (arrow icon) in the Design Templates window from the Window menu.
Regards, Kristian
Welcome @kristian ! However I had the sidebar on the left and not on the right, however the issue was there. Now it seems to be fine!!