I've been having some instability issues with GarageSale Pro running on our old High Sierra desktop mini, and decided to try to move the database according to the FAQ instructions.
So I installed and ran GS 8.3.5 on the new Big Sur desktop, just to make sure I had my Pro subscription in place and all, plus I figured it would be a good way to create a "landing folder" in the ~/Library/Containers/GarageSale directory.
Then I dragged the folder ~/Library/Containers/com.iwascoding.garagesale8 from High Sierra machine to the appropriate location on the new machine.
When it was done (40 Gb over LAN), I launched GS on the new machine but got this dialog: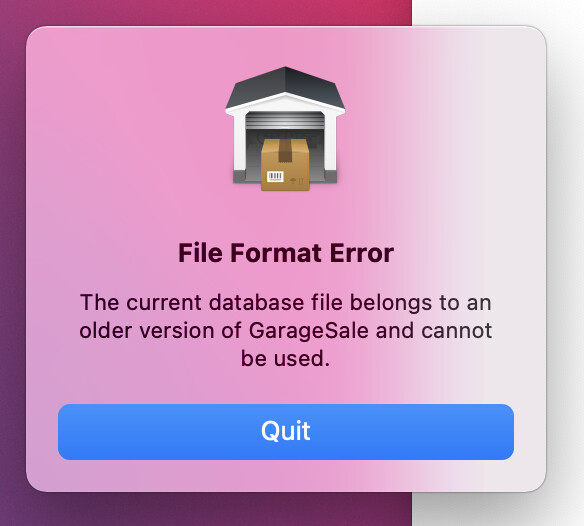 I definitely did not accidentally move the wrong folder, and I definitely didn't have either app running, and so on.
I will be happy to hear the simple advice you might have for getting this to work. It's not an emergency quite, but ever since 8.3.5 was released I have been seeing crashes in GS on the older OS.
clarification: The old computer can't be updated past High Sierra "honestly", but I am considering trying BigSurPatcher… but not when money is on the line