Will Ground Advantage be added to the GS shipping options menu soon?
From a different thread:
Paul says
"Hi,
there are no additional shipping options currently available in the API. As soon as there are new shipping options available we will add them to the metadata that GarageSale automatically downloads (when restarted). Currently we are waiting for an answer from the eBay Dev Support team about this.
Thanks,
Paul
Hi,
the only thing eBay told us to do is to change the name of the "USPS Parcel Select" to "USPS Ground Advantage". We did this and already uploaded the new eBay-metadata file for GarageSale.
GarageSale will pick up this change after it is restarted (and if you have a working internet connection).
Please tell me if you still get any warnings or errors when using the service with the new name.
Thanks,
Paul
This worked for me. Restarted my GarageSale, and the Parcel Select option updated to Ground Advantage. Now I just need to update my listings with First Class Package to Ground Advantage.
I use business policies so GS updated all the listings within the GS program. Ebay fixes listings on your listings posted so nothing needs done online. Ebay automatically uses Ground advantage when printing labels. Ebay doesn't say how long this will automatically be done but with the many 100's of millions of GTC listings they likely won't turn off automatically fixing listings to the ground advantage
eBay Labels automatically selects/prints Ground Advantage for your listings with First Class Package designated, of course, because FCP labels no longer exist.
However, Labels aside, you need to update any current listings:
https://www.ebay.com/sellercenter/shipping/choosing-a-carrier-and-service/usps-and-ebay-labels
Do I need to update the shipping service in my listings and business policies?

Listings with the following USPS services will need to be updated to select USPS Ground Advantage

First-Class Package Service
Retail Ground[/quote]
eBay will not be automatically updating listings from FCP to Ground Advantage:
Why can't eBay update my listings with First-Class to Ground Advantage?

The USPS has separated their First-Class service by moving First-Class Package to Ground Advantage and maintaining First Class Mail for letters, envelopes and flats. The "First-Class" service will continue to be available on eBay for listings where sellers are shipping with these methods. For this reason, eBay is unable to update seller's listings with First-Class to Ground Advantage.
Hmm, They added info that I didn't read or see before. It should be a simple fix for GS to do in the background while I am doing other work.
UPDATE: all my listings that were first class look like this on ebay:


Seems like the work was done by ebay. My new listings since the Ground Advantage was rolled out look exactly the same. Maybe it is because I use Business Policies?
I have a bunch (close to 800) listings which used to have First Class Package and Parcel Post. So now they have First Class Package and Ground Advantage.
I'm wondering if anything will complain (GarageSale or eBay) if I modify that script I posted to change every occurrence of First Class Package in my listings to Ground Advantage, even if there is already one present in the shipping options.
In other words, if I change FCP to GA, and there was already a GA present in a listing, is that a warning or failure, even?
I guess I'll try that tomorrow. It would honestly be a simpler script to write, if I can get away with it.
Yes, if you updated the Business Policy, then all the listings that use that Business Policy would be automatically updated.
Just noticed that listings I have on eBay Motors US do not yet have Ground Advantage shipping listed as options in GS, and still show USPS Parcel Post.
Can you try if a restart of GarageSale fixes this?
@paul, I've noticed 2 issues. First, in Preview Mode, GS still displays "USPS Parcel Select" in the Shipping section preview, when "USPS Ground Advantage" is selected as the shipping service.
The 2nd thing I've noticed is that eBay appears to have repurposed the "USPS First Class Package" option into "USPS First-Class Mail" (a different service). eBay now calls it "USPS First Class" in their listing shipping services and in listings. GarageSale should rename it in shipping services options and listing preview to match and stay consistent. Especially since USPS First Class Package no longer exists.
The nice thing that ebay does when buying labels from them is they correct all the issues caused by group advantage. Parcel and first class is Ground Advantage. GS is also displaying the proper information(but not right fees) before and after shipping is bought and shipped. I use business policies so maybe that is the difference?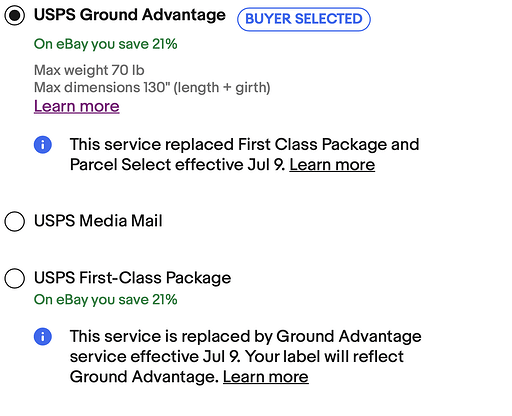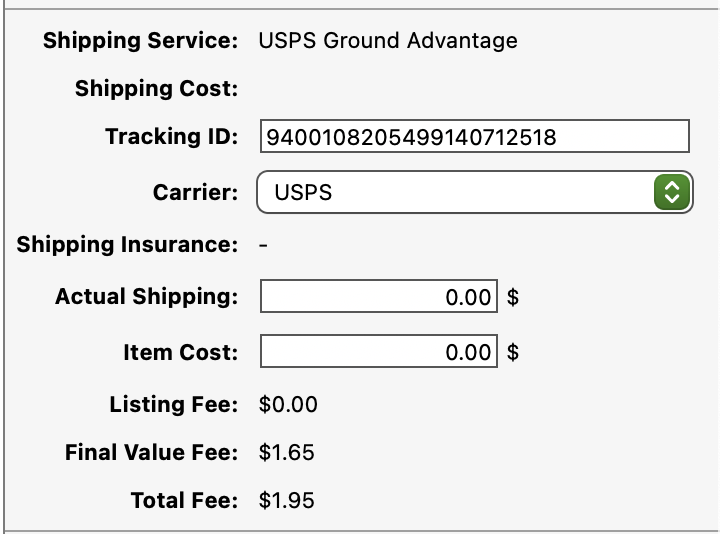 This topic was automatically closed 10 days after the last reply. New replies are no longer allowed.