I have some concerns with the logic used in "Smart Groups". Initially I wanted to find any of my listings whose title had a leading space because this stuffs up the border by title function. i.e… All those with leading spaces are listed first.
Thought I would try a Smart Group".
So I created the smart group below which just has one leading space in the match area.

Not surprisingly this did not work. The item " 20 various aviation cards" has a leading space but did not appear in the Smart Group.
I edited the Smart Group such that it looked for all listings whose title began with " 20" i.e. SPACE20. The Smart Group found 1289 items that matched this criteria.

This is not correct though. It should have found only the one item. It did in fact find the matched criteria in ANY PART OF THE TITLE. Not just leading.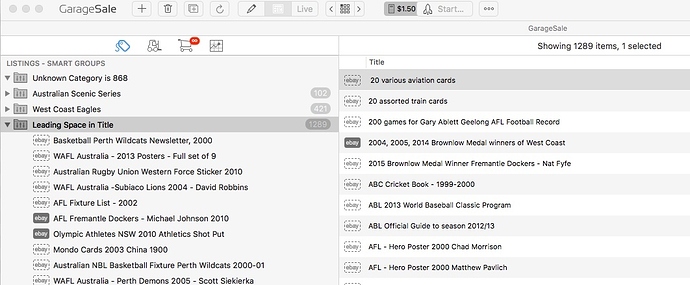 I respectfully suggest the use of SPACES in Smart Group needs some more work.
Or is this just another quirk of my corrupted database?
IS IT POSSIBLE to order by title in the Smart Group listing? It is so hard to find items in an unordered list.
Or is this just yet another quirk of my corrupted database?
David