I have tried the 'stopping one hour before time and re-starting again' combination over the last couple of days but with limited success.
On my system, GS performs auto-cancel every 5 mins.

There are 3 issues I would like to expand on.
The same item after it had been stopped by GS.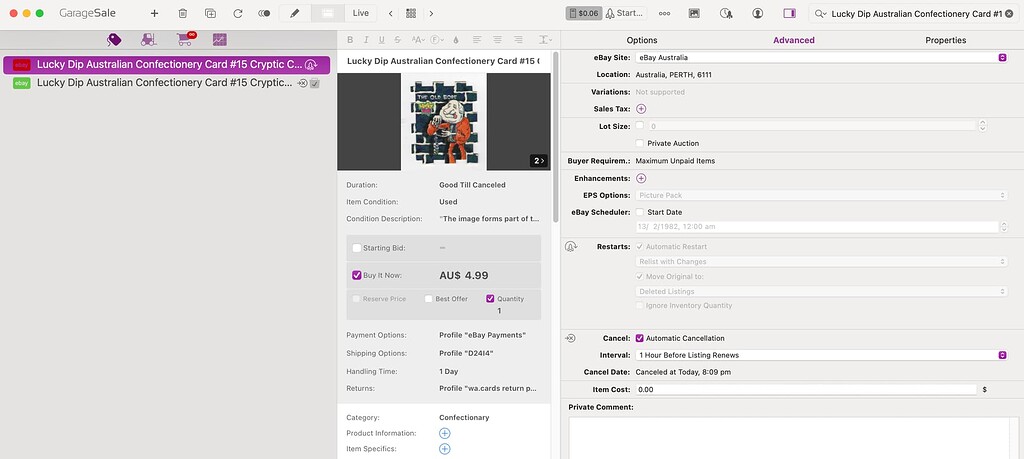 Note now that the RESTART checkboxes are greyed out and cannot be changed. This item was not restarted. This can cause problems when selecting multiple items with multiple statuses. The restart check boxes can not be activated.
The Activity Viewer Window.
I find that because GS constantly clears this window, many activities are missed and it a bit of messing to find out what has happened. Maybe it would be more beneficial not to clear the window but have it scrollable backwards to see what activities have taken place. Maybe a timestamp to the window every 5mins or so would also help.
Maybe there is already a way of doing this. If so please point it out to me.

On just a couple of occasions I noted that items that had been sold were restarted by GS.
And on other occasions, I have manually selected a group of items to start not realising that an item with status SOLD was among them. I believe, others may differ, that it should not be possible to start an item with status SOLD. To me it makes no sense to do so as that one to one record with the order is lost. I always make a duplicate. If others are in agreement is it possible to have a pop up warning to alert that this is going to happen.
Note: I only use Quantity=1.
I am running a couple of versions behind at the moment. 9.0b13 (1414). If upgrading will help me, please let me know.
David