Select all or Command+A
Sort by amount during the template list view.
Sorry, I could not immediately reproduce that bug. Could you please provide a more detailed description of what is "not working", and how to reproduce this issue.
In the previous versions (6) I was able to do a "Select All" on the template's body (description).
It allows me to quickly replace any text or change the formatting of it.
It's not allowing "Select All"
from the GS7 menu, select "Edit" then choose "Select All" while on the body of the selected template (Editor Mode, non-html-mode).
Thank you.
Second bug.
select a Group that has many templates.
do a sort by "Buy It Now", you will notice that sorting by amounts doesn't work.
My sort looks like this:
$1,000.00, $1,500.00,$10.00,$100.00
It should look like:
$1,500.00, $1,000.00, $100.00, $10.00
Thank you.
& Thank you for even adding this features and many more they make GS much more useful. I'll keep reporting any bugs I find.
hi, I am working on a shirt listing with variations in mens sizes.
However there is an error in the attribute section.
I could NOT remove from Attribute Mens sizes. (It is in the variations.)
The item attribute with the name 'Size (Men's)' is specified in the variations and for the listing itself. Please remove it either from the listing or the variations.
This bug should be fixed in GS 7 Beta 4, which was just released. Please let me know if the new version resolves the issue:
Hi Ilja,
There's a bug with updating the "Local Pickup Only" to shipping option.
Everything is grey out and GS7 is no allowing me to select a shipping option.
Help please.
Thank you.
What eBay site are you listing on? ebay.com ?
Good catch. Seems GarageSale is sorting alphabetically, when it should use numerical sorting. Hopefully this one is easy to fix.
We have been chewing on this bug for a while already. We are still not sure what's causing it, but it's already on the list of issues to fix for the final 7.0 release.
The "local pickup" option is now a regular shipping service. Look near the bottom of the shipping services list in the "Other" section: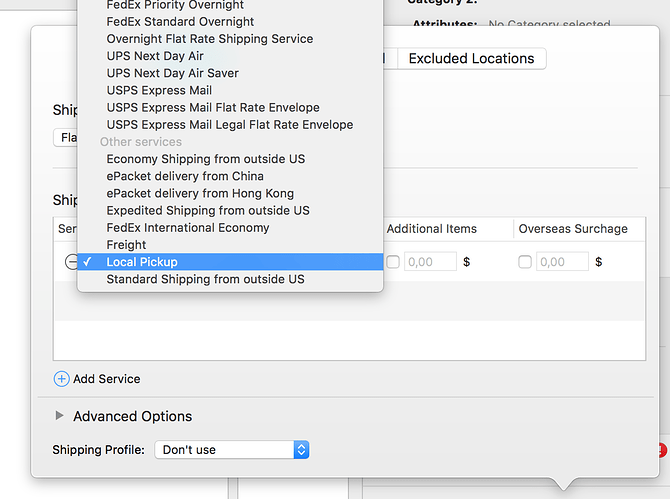 Thank you, I understand that.
I think the issue is with Imported listing that already had "local pick up"
Shipping Services is completely "grey-out" it won't allow me to add or remove anything.
The "Shipping Fees", "Shipping Services" and "Add Service", are totally disabled For those templates with "Local Pick Up"
All of my templates are imported from GS6.
Thank you.
Bummer. We'll try to fix this for the next beta release, too.
HI, I am trying it, but now the variations keep asking for unique SKU when they ARE already, but it does not recognize it.
HI, I am trying it, but now the variations keep asking for unique SKU when they ARE already, but it does not recognize it.
And still NO option to delete Mens Size in Attributes.
Can you please export your listing and post it here? Here is how to do it:
Select your listing in the outline view and choose "Export Listings" from the "File" menu
Save your listing to your desktop or some other place where you can easily locate it
Right click your exported listing and choose "Compress …" from the context menu
Upload the compressed listing with .zip suffix to this thread. You can just drag the file into a reply box
This (and other bugs) should be fixed in beta 5 now: